So I was finally Copic Certified in Phoenix April 19th. It was soooo much fun! I was able to go with my
mom
and our dear friend
KellyRae
. It was awesome, can I say that enough? We were instructed by Jennie Black with Marianne from
http://www.ilikemarkers.blogspot.com/
assisting. I have been coloring like crazy!! ***Lots of Pictures ahead***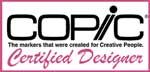 You can see more info
here
on my mom's blog. She had pictures taken with Marianne and Jennie and of our group. It was a FULL house at our certification. I was also able to take home Marianne's drawing example of coloring hair. It looks awesome on the wall in my craftroom; a good reminder to me when I am coloring.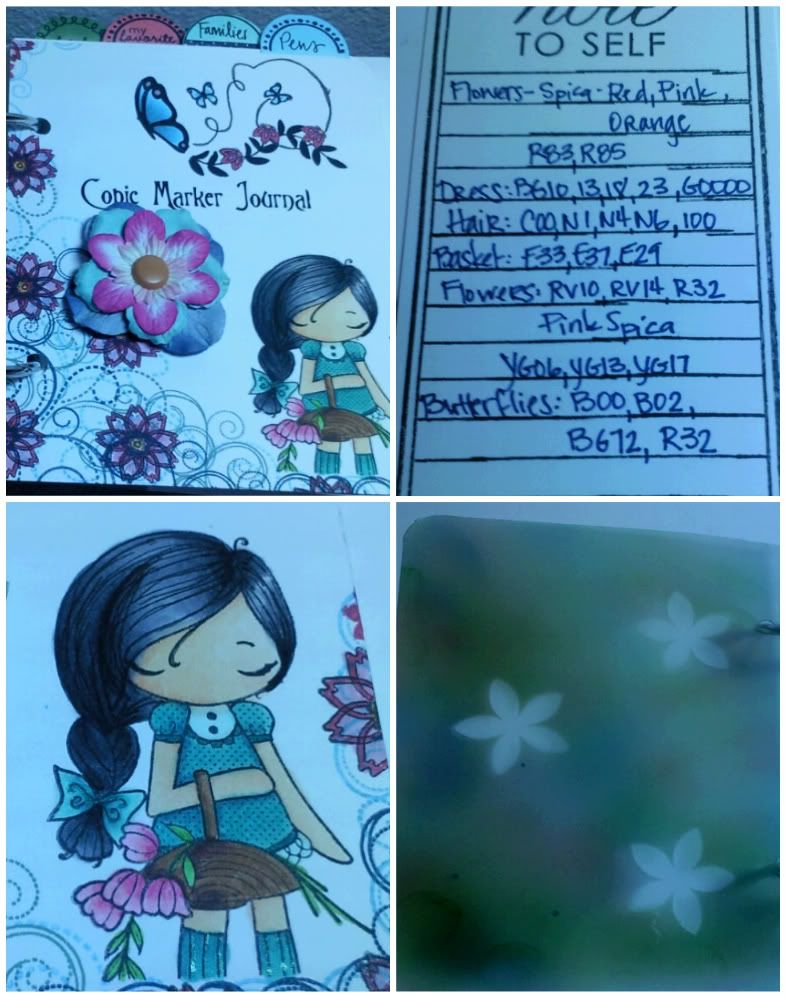 I came home from our class and immediately started working on my Copic Journal that you can download from
here
. I colored and stamped the front to personalize it and the back cover I created in the certification class with the air brushing technique. On the back of each section a did a "Just A Note" paper stating what colors, stamps, ink and method was used to color the image on the previous page. That way I always know what I did if I want to duplicate it. The pages were trimmed down using the Tabbed Mini Book Page die from
PaperTrey Ink
as well as the Mini Tab die. I used the the stamp sets Take Note, Mini Scrapbook Series: Tabs, and Delightful Dahlia from PTI; Miss Anya Collection from The Greeting Farm; Petal Perfection, Fanciful Flourishes, and All A Flutter from My Time Made Easy throughout the journal on the dividers. Everything was stamped on Neenah paper with Nick Bantock Lamp Black Ink. The front cover also had ink from PTI: Hawaiian Shores, Ocean Tides, and Enchanted Evening.
Sorry if the pictures are a little dark. my two year old got a hold of my memory card for my camera and now it doesn't work. Of course I don't have a cord to transfer pics to my computer either. So I had to use the cell phone.
Here is the first page in my journal and on the back I put the tab info. I colored each of the tabs - -why not? it's a copic book right!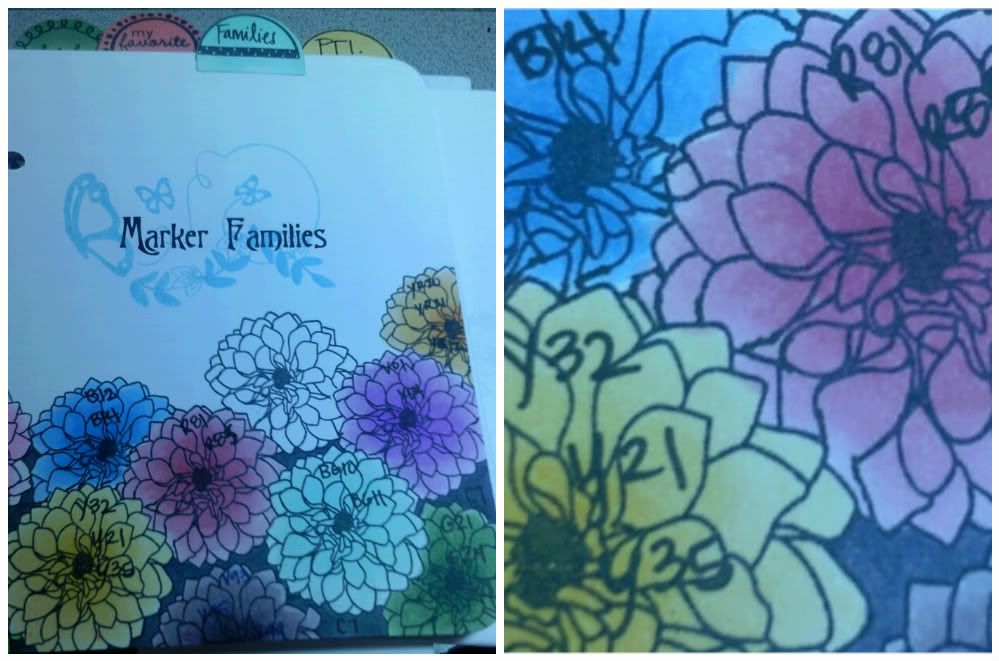 The next section is Marker Families. I colored all of the Delightful Dahlia images with "families". In the close up you can see; Y32, Y21, Y35 and R81, R85. This way I can see the families at work. Even the grey background is colored with C7 so the flowers pop.
I also included the PTI suggested color combo with this I I like using several of the combos when I color. It can be found
here
. My printer was a little off on the colors so I think I will redo this page and color in with my markers.
The next section is Hair and Skin. I colored using my favorite Swiss Pixies image and also added some Bridal Flowers that you can get at Michael's or Joanne's. They are wonderful for coloring with your copics. Just be sure to let them dry if you put a lot of ink on them. On the back is another Note about the colors used. Below that are pics of some sample pages I have done. I am really detailed in my notes about what I did and colored with - -my OCD coming out!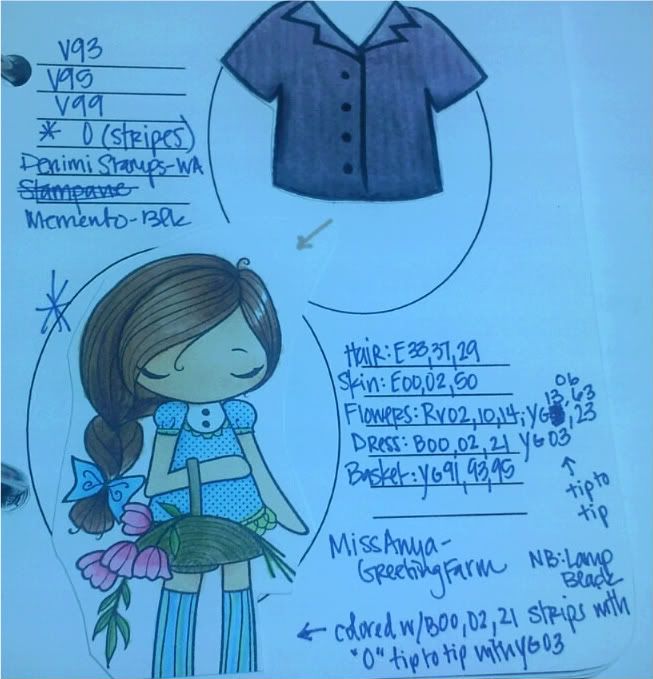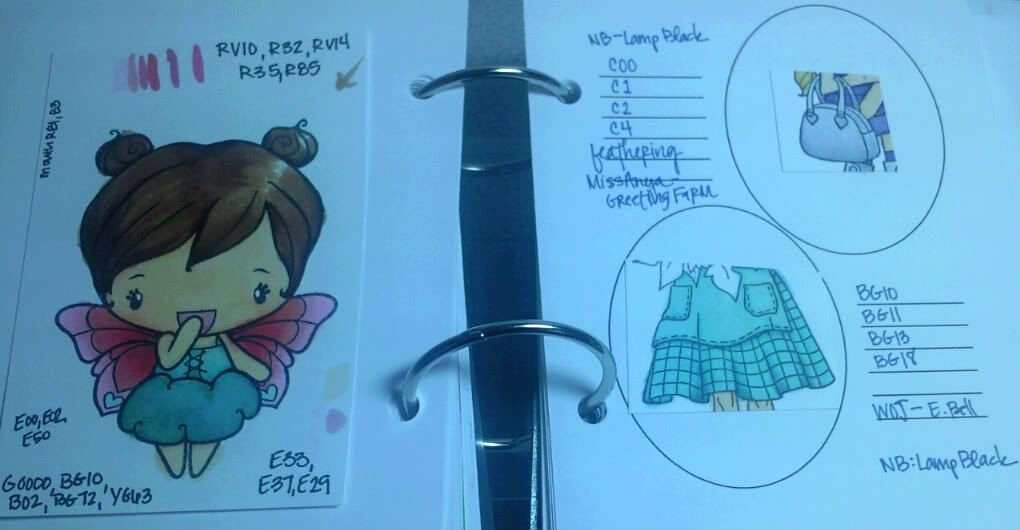 The last section is Color Combos. I haven't had a chance to add anything to this section
yet
so the divider is uncolored as well as a reminder to me. I also came away with a few ideas as well. The group of ladies we were talking to mentioned making swatches of the markers to place directly over the paper they are using to color match. Also to color a Copic Chart on each type of paper you would color your markers on to get a good comparison of the type of coloring you want to do. I did both! As any good OCD'er would say, you can never be too organized!
For the Swatches, I made a cut file on my cricut (1st ever!!) so that I could get 35 tags on one 8 1/2 x 11 piece of cardstock of Neenah, Prism, or PTI's Stamper's Select. The tags are 2x1 in size and have a hole so you can easily put them on a ring for quick reference. You can find the cut file
here
only until June 30th.
The Copic Charts I found on
Suzanne Dean's website
and printed them all with my Epson Printer onto Neenah, Prism Simply Smooth and PTI's Stamper's Select. you can definitely tell a difference on coloring on each paper. I tend to over saturate sometimes for my darker colors so I prefer to use PTI at this moment. If I am layering, I usually use Neenah or Prism instead.
thanks for looking!