Sorry it has been so long since I last posted! I have been super busy with projects for the
Cutters Creek Design Team
and just haven't scheduled any posts on here! Hopefully by next week, this blog will be caught up as well!
So here is my project for this week over at
Cutters Creek
!
So one neat benefit of making cards for the CuttersCreek Design Team is that I can get holiday cards completed early. Like today, I am showing my Father's Day cards and it is still MAY! Woohoo!! Hopefully today's post will inspire a few of you to get your cards completed early too!
For my cards, I started with a stamped image from my stash. I knew it was the PERFECT representation for Father's Day and what the men in my family mean to me and my children. I didn't want everyone to be the same, so I used cool greys and blues to color the suits. All I did was include more or less of the middle shades and they each turned out looking completely different from one another which is fantastic! The markers I used are towards the bottom of the post, but if you want to know specific groups used, just leave a comment with a way to contact you and will send the info or on the leftside bar just down a little is a box you can email me from :o)
I wanted to personalize a few of the "D's" on the front so I roughly (I am a colorer NOT a drawer!) drew a Batman emblem for my dad, after all he is Bruce Wayne, and a toilet and plunger for my Grandpa - -He and my Grandmother owned a Plumbing business for 20 years. I also tried a few copic techniques. On the first figure I tried to make stripes for the suit, you can kind of make it out. Also with the 2nd and final figures I used the feathering technique; I think they turned out pretty well.
I decided I wanted to make an easel card after all of my figures were colored. I loved
Beate's
tutorial on SCS, but I didn't want to waste any paper. I found a more economical way on
Created by Katie Cotton
. I folds great and stands nicely - -I didn't have to weigh down the face of the card so that it wouldn't flip up! I cut the layering pieces with my
We R Memory Makers Ultimate Cutting Kit
. I cut in 1/4" increments so the layers were visable but thin. I pulled some phrase stamps from my cabinet, crossing my fingers I had something for Father's Day - - -
hmm . . . . maybe I should post about organization later . . . . .
Okay, back to the card :o)
I found a PERFECT stamp set from ages ago that is from Close to My Heart. It says "You are my Hero" How great is that!?!? It also had a matching design that said "Happy Father's Day" for the inside of the card. I used 2 different sentiments for my husband's card and my dad's. Yes, I am a Daddy's girl thru and thru!
Next, I assembled the card, barely resisting to add more embellishments as this is a Man's Card . . . spoken in a deep voice :o) And tada, a quick, simple, meaningful Father's Day card! I hope this gave you some ideas!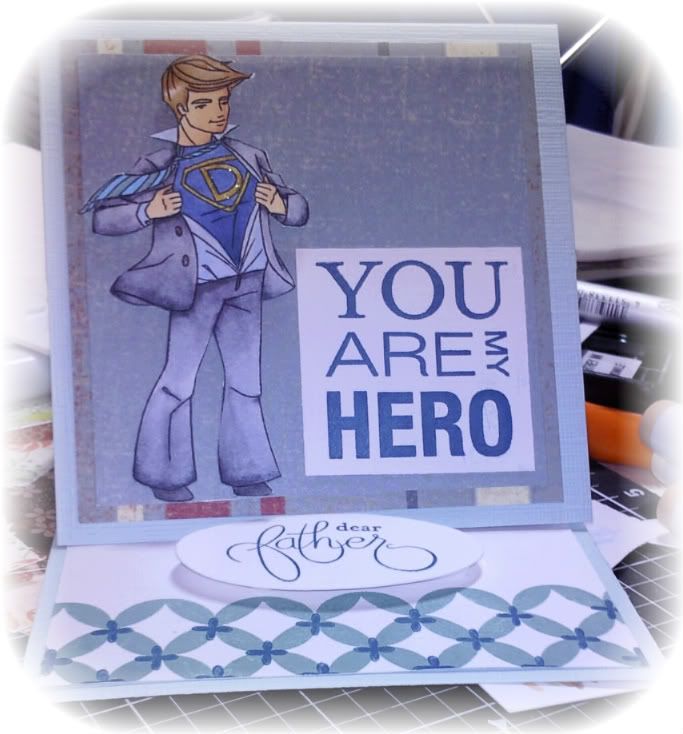 Here are the Copics I used I forgot to include the Spicas so those are listed as well: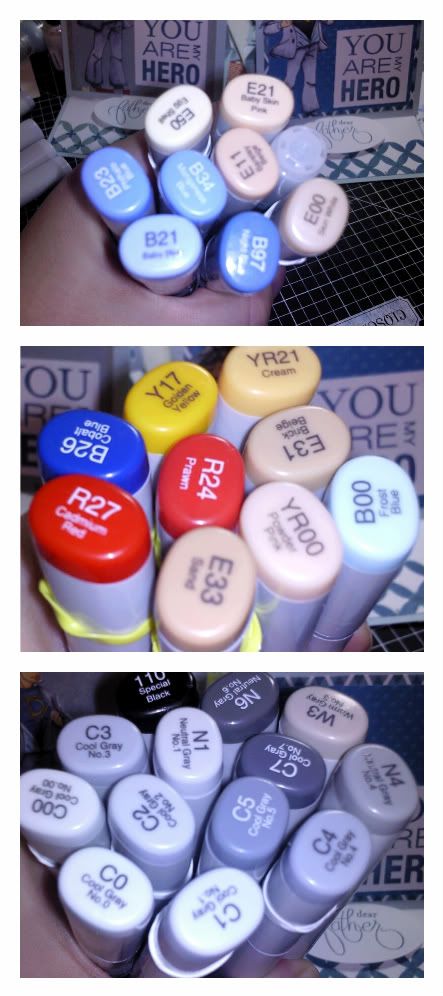 And here is the list of items I used available at
Cutters Creek
!
Dotted Swiss Multi-Pack 12"X12" 60/Pkg
Memento Dew Drops Dye Inkpad
Smooch Accent Ink .33 Ounce (9ml)-Illuminate
Scor Pal
SCOR-TAPE 1/4"wide x 27 yds long (double sided)
Simply Smooth Cardstock 8.5"X11"-White
Glue Dots 1/2" Pop Up Dots
Fingertip Control Craft Knife
Acrylic Block Starter Set Of 5
Ultimate Cutting Kit
Additional Produscts Used:
Stamps: CTMH- You are My Hero, Lady Bug and Friends -Dad, Dude or Darling?, MTME- Puckered Up Patterns, Sensational Sentiments, So Sentimental
Paper: Bazzill from stash, MTME Digital Paper -School Plaid Collection I & II, Get Graphic Collection II
Ink: PTI -Enchanted Evening, Ocean Tides