So, I LOVE, LOVE, LOVE
Treasure Box Designs
cut files. I think I actually own every file out right now too! Plus, a freebie cut file is available every Tuesday. And, Dina has tutorials on how to get the shading and eyes just right for paper piecing. Can it get any better than that?
Then, I received notice that Digi Stamps are coming soon!!! Oh My Gosh!!!!! I think I have just died and gone to heaven! I emailed right away loving the chance to get a sneak peak of these babies. And guess what! I get to make a card sample with one!!
**Doing my little happy dance right now!**
So without further ado . . . . . . here is a sneak peak of the new Digi's from
Treasure Box Design
.
I worked with the Chick and the Egg. An adorable image that is just begging to be colored with my copics! And made me think that I should learn how to use the copic airbrushing for some awesome backgrounds! I used a card sketch from
Paperthreads Forums
and paper from the Memory-Works
Simple Stories Kit
- -LOVE these colors! Plus, I discovered how truly wonderful Prism paper cuts on my Cricut - -like Butter!! Much cleaner cuts than I have been experiencing with my much used Bazzill. Hmmmm, something to think about . . . . . . .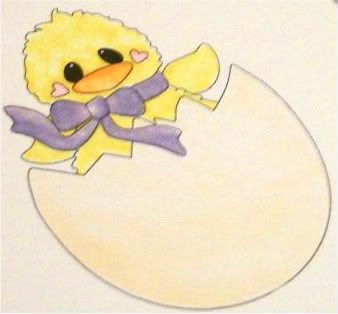 I colored the image with my Copic markers ..... forgot one in the pic **hehehe** T01.
What was cool with this image too, I didn't need to use a ton of colors to shade. My Colorless Blender was Eggs-elent *hehehe* and let me do a lot of "shading". Distressed the card, layers and edge of chick with Nick Bantock Van Dyke Brown.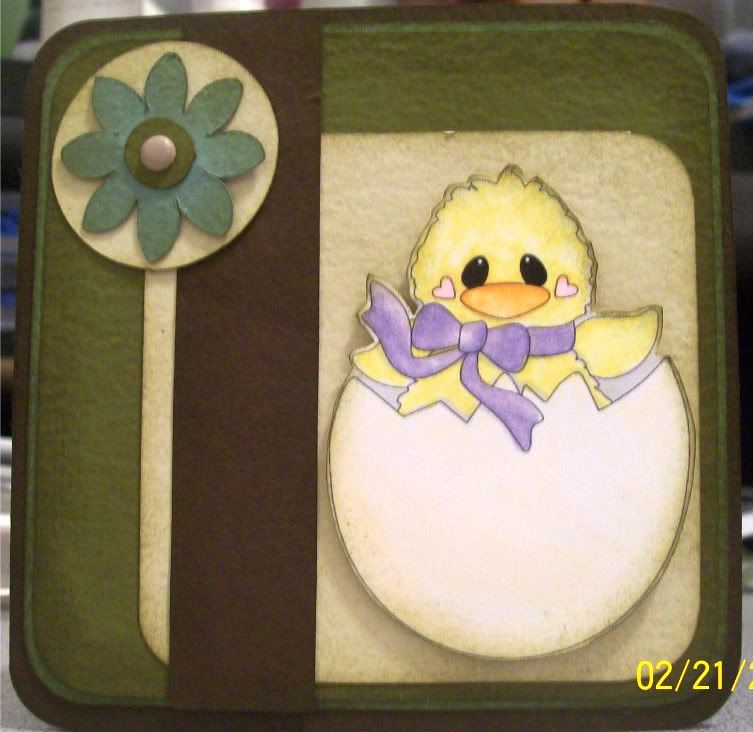 And then assembled the card. Easy, peasy. The whole card took me maybe 35 minutes - -this is a record for me! I LOVE to detail my cards and projects and this just looked so darn cute the way it turned out! Please let me know what you think and be sure to go to
TBD
or the
TBD Blog
and sign up for the newsletter to get new updates on when the Digi's will be available!