Welcome to the Cutters Creek Design Team Holiday Blog Hop! We want you to hop along with us and play for some awesome Blog Candy. The objective for our Blog Hop this weekend is to provide some inspiration to help you get your holiday crafting underway! Our Design Team has come up with some fabulous projects and we have a little bit of everything, from cards to gift ideas, and home décor items. So we invite you to hop along with us and get your creative juices flowing!
Here is the complete blog hop line up in case you get lost along the way:
For my card, I decided on making a simple birthday card coloring my favorite image from Sarah Kay. I then took some papers from my stash, ran the green through with a cuttle bug folder and assembled. I couldn't find anything to really go with the card, so I cuts some shapes from the patterned paper I used to add a little dimension. Assembled the card and its ready to go!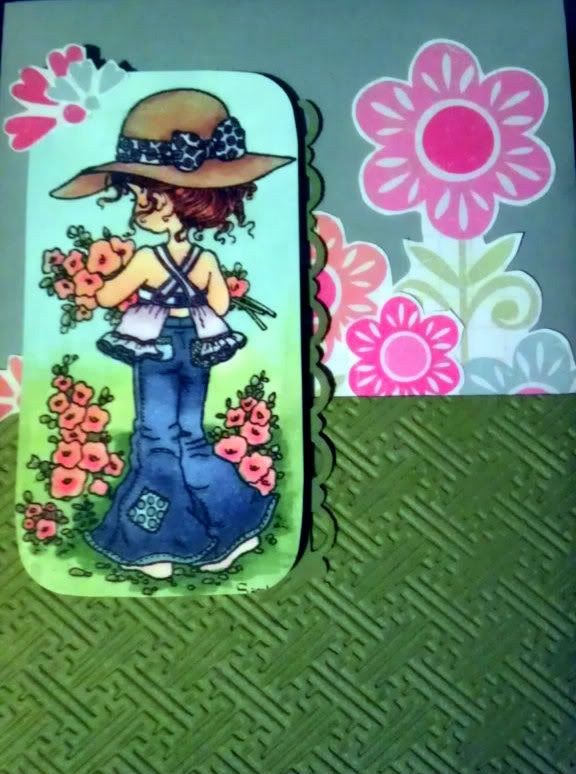 Don't forget to leave a comment before hopping along to Lori's blog. If you do leave a comment here, you can enter for a chance to win some wonderful AC Glitter Tape which I showed on my project last week. Thanks for hopping by and we hope you enjoy the hop and get many wonderful ideas!
Paper: from stash, Bazzill
Ink:
Memento Tuxedo Black
,
Copics
,
Embellishments:Cuttlebug Oriental Embossing Folder
Other: ATG
Jeans: BG72, BG75, BG78
Pockets: G29, B18, BG10
Ribbon/Shirt: BV00, BV02, BV04


Skin: E50, E00, E02, YR000
Hair: E97, E99, E37
Hat: E21, E11, E33
Flowers: RV0000, RV00, RV02
Leaves: YG11, YG13, YG17
Ground: YG91, YG93, YG95