Well I am finally back!! Overtime has ended at work for the most part and I am now able to finally create again! I have been hearing a lot lately about Neverending Cards so I decided to do some research and was able to make my own. Now if you have no idea what I am talking about, it is perfectly fine! I didn't know what it was either! Below is a short video (under a minute) showing a completed Neverending Card and the 4 panels you create. Hopefully it sparks your interest too!
Just in case it doesn't load for you, click here:
Ready to start making your own? It is soooooo simple! You will start with 4 sheets cut to 3" x 6" and scored at 1 1/2" on each side.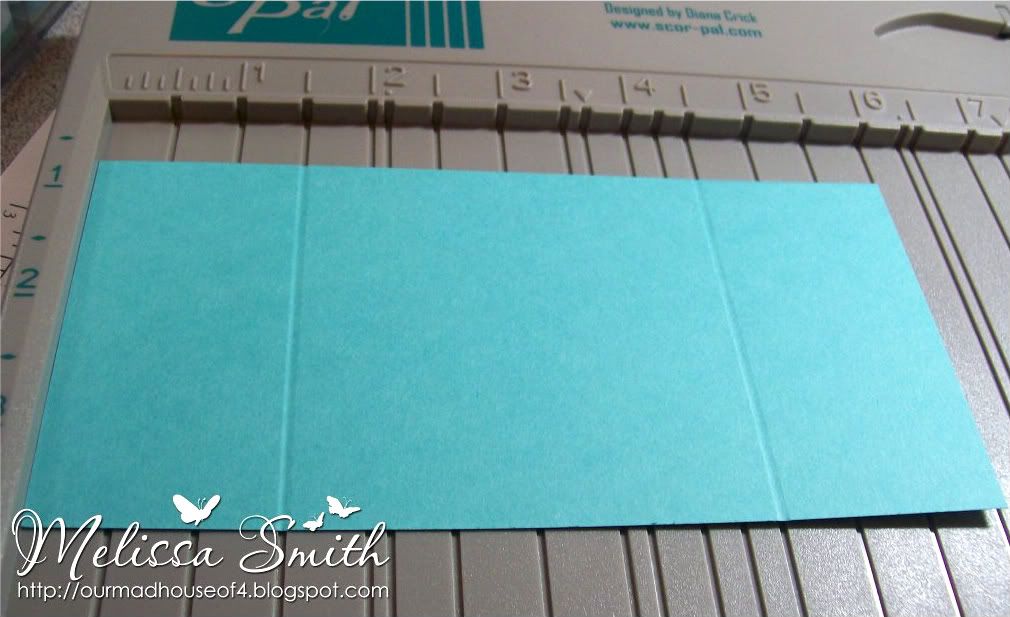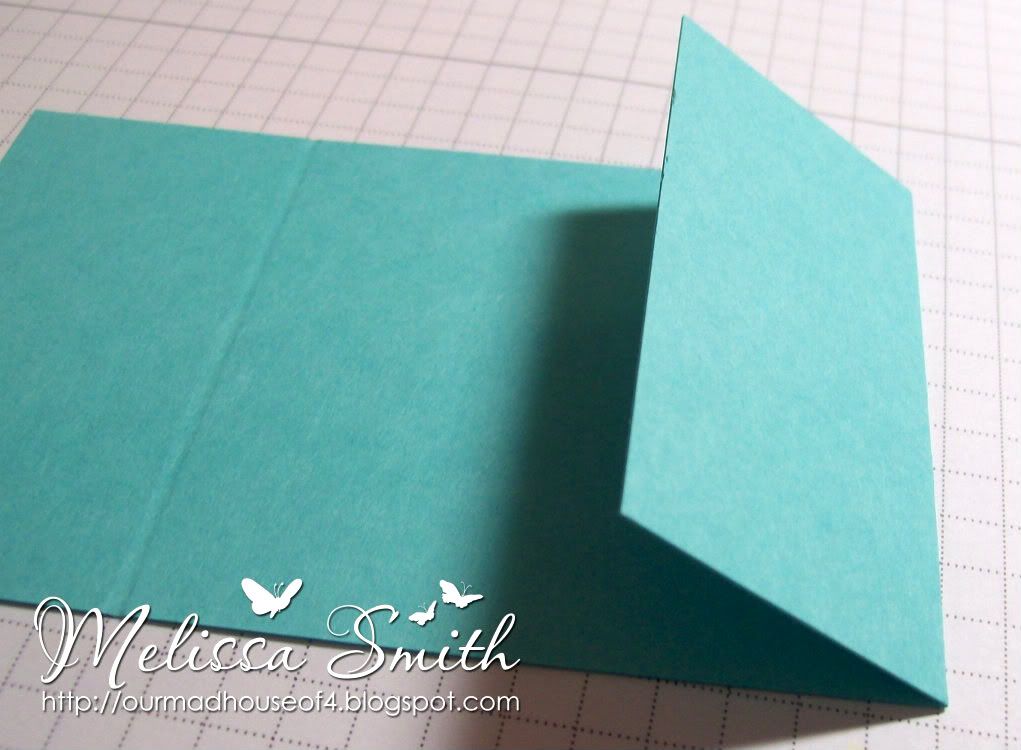 Next, you will want to go over each score with your scor-tool in both directions (with the scored portion on top and than on the bottom) This way it bends much easier after assembled.
Lay out two of the 3" x 6" pieces horizontally and line them up evenly to apply tape to the 4 corners only.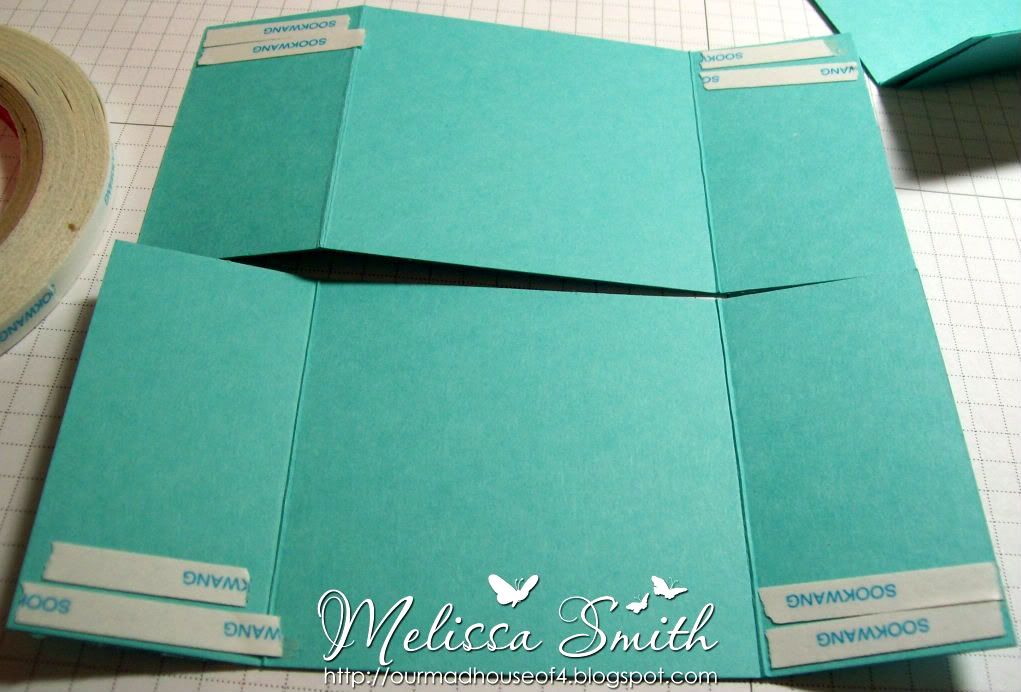 Take the 3rd sheet of 3" x 6" and lay it over one side vertically. Only remove the adhesive one corner at a time so you can line up the pieces perfectly. (Ask me how I know this!)
The last sheet is extremely easy to apply as you really only need to line it up against the other vertical sheet. But remember to still only remove the tape one corner at a time.
And here is your assembled card!
Just in case, here is the youtube link:
The next part is simple. It is probably the most time consuming part because you are cutting out the sections for each of the 4 panels. The measurements for each panel are below. I am using color 1 and color 2 so you can see how I layered them. Also, if you are going to be using layers, I would recommend using patterned papers or thin papers as cardstock makes the card very thick and heavy if you are mailing.
Panel 1: Color 1: (4) 2 3/4 x 1 1/4
Color 2: (4) 2 1/2 x 1
Color 1: (2) 2 3/4 x 2 3/4
Color 2: (2) 2 1/2 x 2 1/2
Panel 2: Color 1: (2) 2 1/2 x 2 1/2
Color 2: (2) 2 3/4 x 2 3/4
Color 1: (4) 1 x 1
Color 2: (4) 1 1/4 x 1 1/4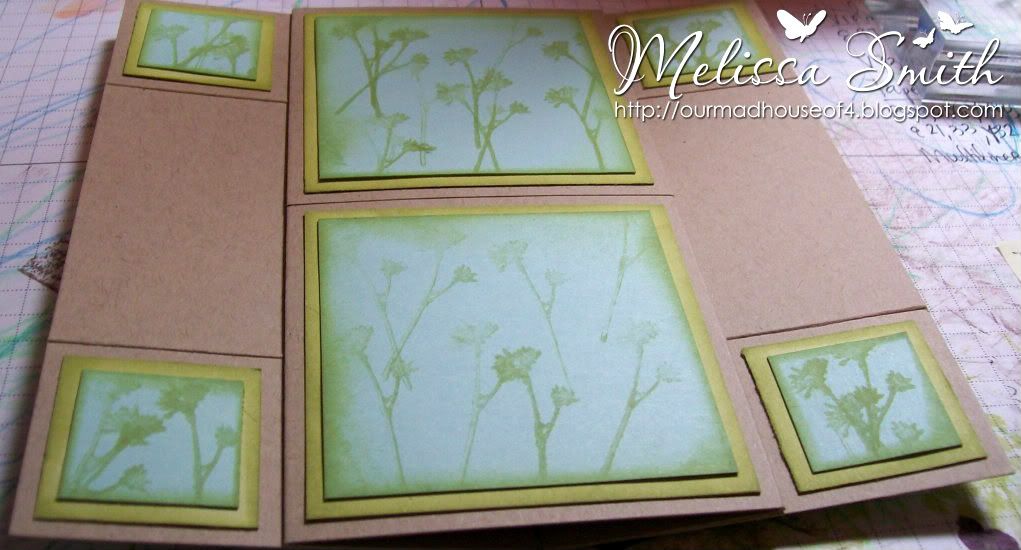 Panel 3: Color 1: (4) 1 1/4 x 1 1/4
Color 2: (4) 1 x 1
Color 1: (2) 2 3/4 x 2 3/4
Color 2: (2) 2 1/2 x 2 1/2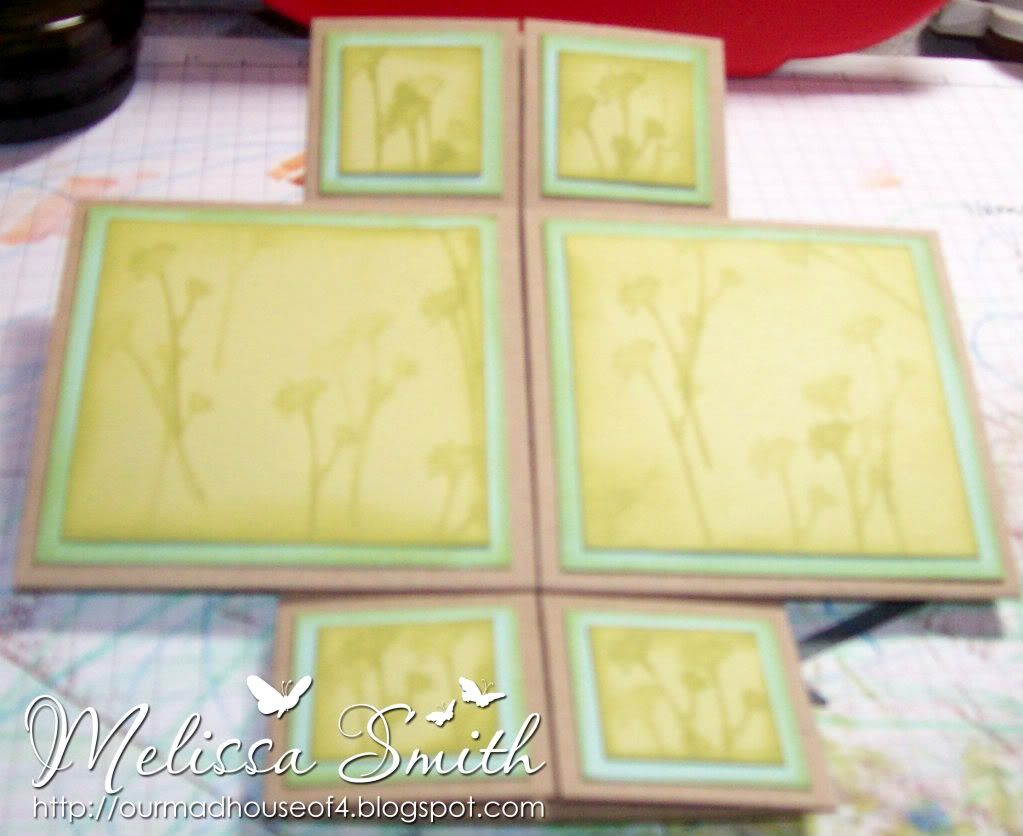 Panel 4: Color 1: (2) 2 1/2 x 2 1/2
Color 2: (2) 2 3/4 x 2 3/4
Color 1: (4) 2 1/2 x 1
Color 2: (4) 2 3/4 x 1 1/4
Now the best thing I have found about this card is that there are so many areas to fill that your imagination has free reign. But, you are limited on your 3D embellishments as with all the folding it may not work properly. I love simple cards so I was inspired by a discontinued CTMH set called Treasure Life - -lots of sayings and flowery backgrounds that can be used alone or mixed with each other. So I used the flowers for my background inplace of a patterned paper and sponged like crazy! I love how it turned out. You can see how very little embellishments are needed after everything was stamped. Some good stamps to try from Cutterscreek for this idea are:
Pink Cat Studio
Garden Plate
.
Inkadinkado
Chandeliers
,
Filigree Fall
, Leaves Galore,
O Holy Night
(this would make an awesome Christmas Card!!!)
FlowerSoft
Flower Foliage
Autumn Leaves
Swirls V2
So here is my end result Embellished and all. First a close up of my last Panel. I used an image from the Mini Hannah Collection from Pixie Cottage available at Cutterscreek. I listed the copics used as well (they are in the order I used as well). Let me know what you think!
Water: B000, B00, BG10
Sky: YG11, G0000, BV0000, RV0000, YR000
Skin: E50, E00, E02
Stones: N1, N4, N6, N9, C00, C2, T1, 0
Grass: YG03, YG63, YG17, E33, Covered with: YG11, YG06, YG03, YG63
Leaves: YG91, YG93, YG95
Flowers: Y04, R30, R32, R35
Dress: Y32, Y35, Y17
Hair Band: Y17, Y19, Y18
Hair: E33, E97, E99, 0
Spicas: Pitch Black (Birds), Clear (Water), Peach (Flowers)


Items Used from CuttersCreek:
Prism White Paper
Memento Tuxedo Black Ink
Mini Hannah Collection by Pixie Cottage
Copics
Atyou Spicas
Scor-Pal
ATG
Scor-Tape 1/4"

Additional from Stash:
PTI: Kraft, Aqua Mist, Spring Moss papers; Spring Moss ink
CTMH: D1306 Treasure Life
Bazzill Flowers
Paper Flowers from Stash