Wow, I can't believe it's been nearly a month since my last post. So much has happened, its crazy!! My grandmother is moving in with my parents so I have been spending my weekends heping organize and picking up some items that my folks have been storing for me so they can start the remodel of their home. THANK YOU!!
I have had to make a few sympathy cards for work for some coworkers' loss. This is always a very humbling subject for me and honestly makes me want to spend more time with my kids and husband.
I FINALLY was able to have an actual "date" with my husband after months of having our date night "in", which usually lasts all of 5 minutes! We saw Clash of the Titans - - -I was so mad when we left. Definitely not a remake but more of a rewrite. Totally ruined it for me now :o(
I applied for a design team and found out , I made it!!!!! I am soooo excited to start.
Here
is my submission. I just wish I took a picture of the inside of the card before I sent it along. Oh well!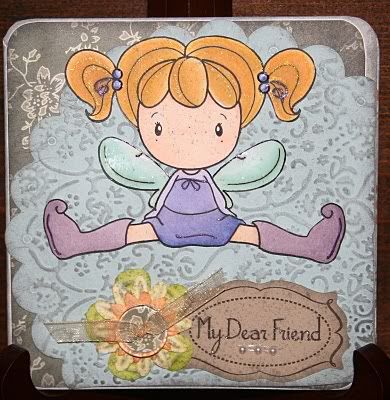 I just love how Kim took such a wonderful picture of the card. She was able to capture the shimmer from the At You Spica pens I used to highlight my copic coloring with. Just leave a comment if you would like the details of the products I used.
So I now officially design for
Cutterscreek.com
!!! I cannot wait to share my first project with you on the 20th!!!