So, today's post definitely has a dual purpose. First of all, I have been dying to organize my craft space as I now have a whole room all to myself! Lack of time has put that off repeatedly for me. Secondly, My Time Made Easy has another giveaway planned if you post any templates you have made. So, what better reason to Make Time than for a chance to win something! Oh, and get organized as well :o)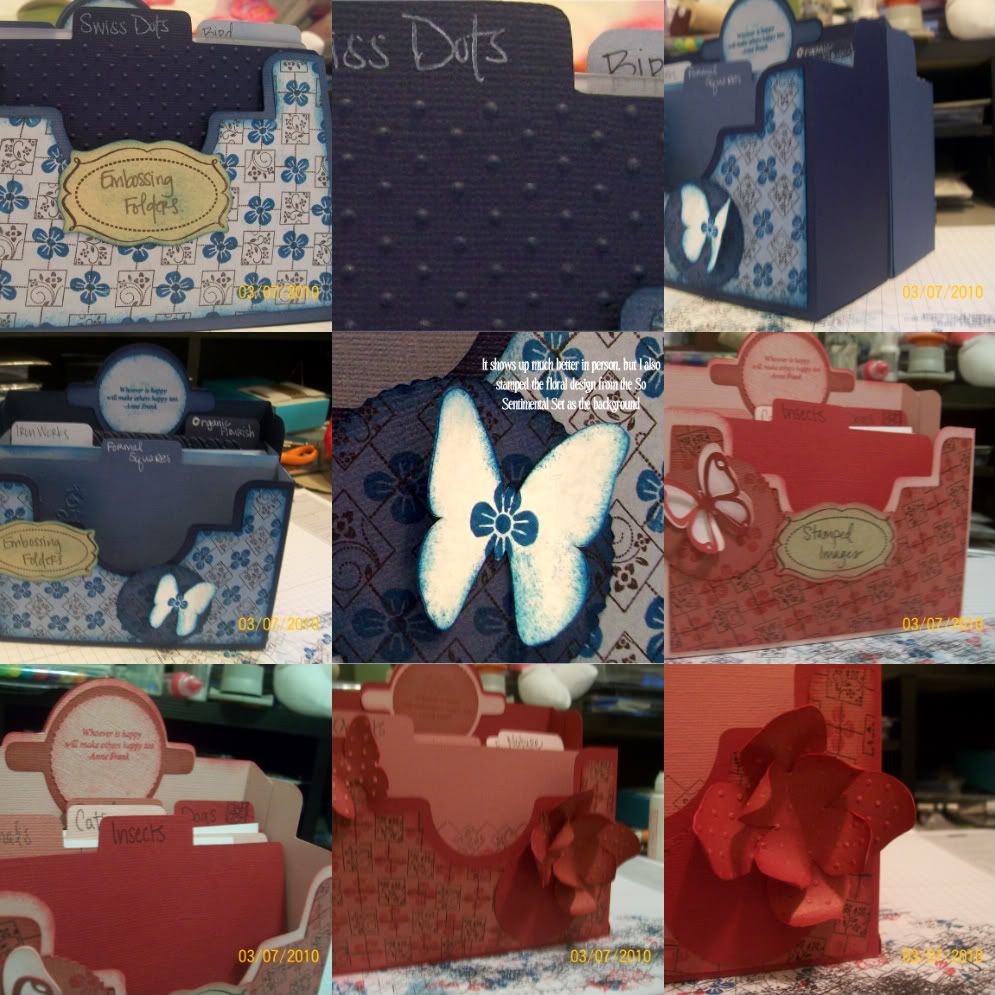 So, first I made the Card Carry All that was released this month. I made four and put them back to back making two large Carry All's. The blue one I made first, to organize all of my MANY embossing folders. Plus, the template comes with file folders/tabs made to fit! I embossed each of these so I would have a good visual of the image when I am looking at them.
The red one, my favorite, I made to hold all of my stamped or digi prints that are colored and uncolored. I used some of the leftovers I had from my Shutterfly box I made for Grandmother last month - -the butterfly, "flower", and paper. They now sit right in front of me as I am working on projects so I can easily access them for use or ideas!
Products Used:
Template:
Card Catch All
,
So Sentimental Frame
,
Card Catch All Add-On
,
Flutters and Flowers
Paper: Bazzill from my stash
Ink: Nick Bantock Lamp Black, Palette Ballet Blue, Stampin' Up! Pacific Point, Stampin' Up! Pink Pirouette, Palette L'Amore Red
Stamps:
So Sentimental
,
Argyle Amazement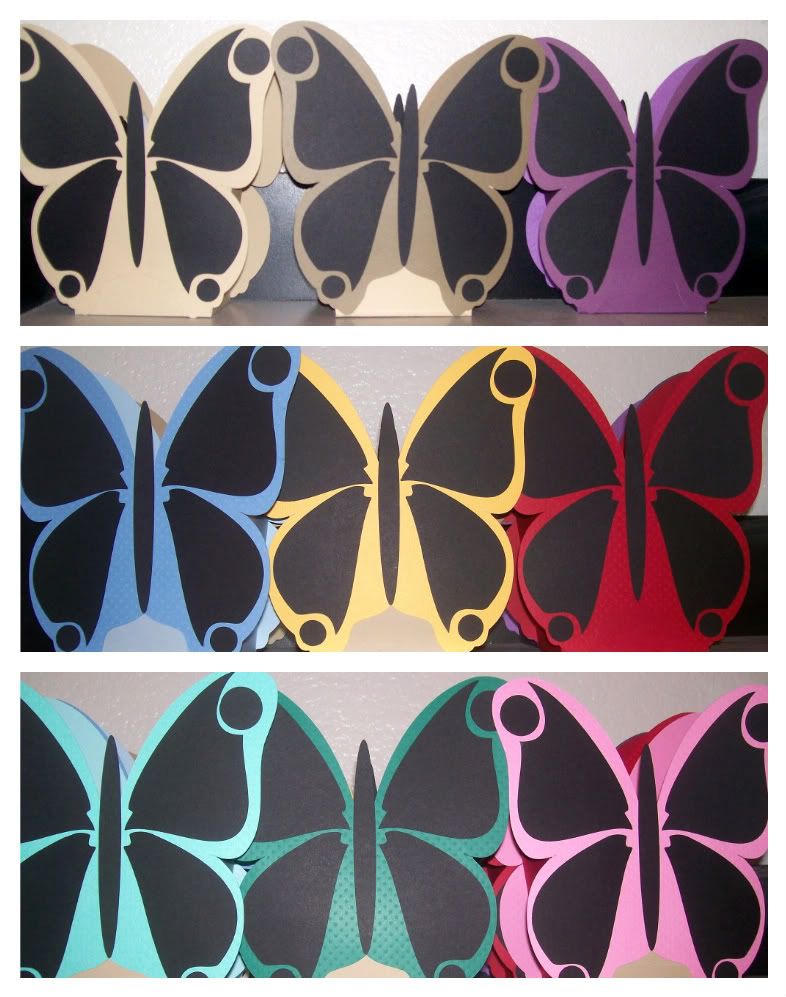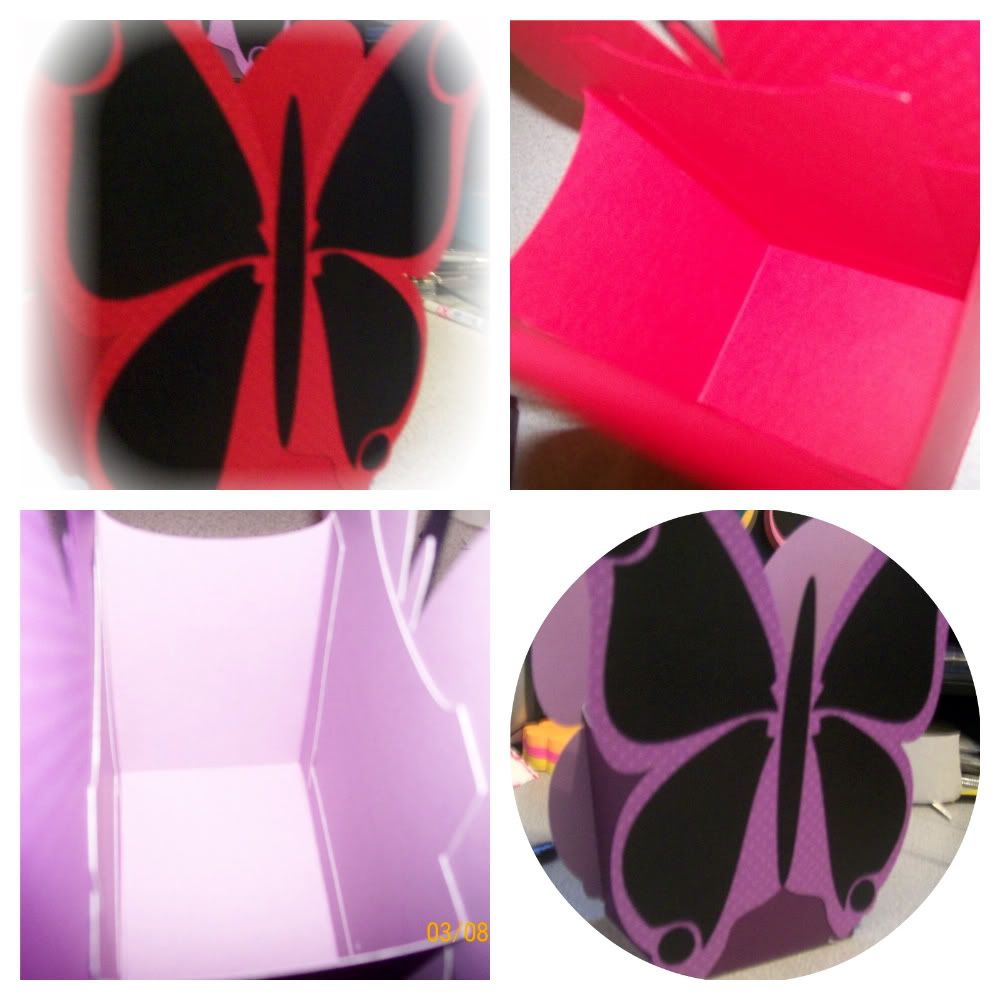 Lastly, I made NINE of the All A Flutter templates! And it only took me just over an hour!! Can you believe it! I made them slightly larger and with a reinforced bottom. I soo want to embellish these more than they are now, but with how much I plan on using them, I don't want to have the embellishments show their wear and tear! Now I have nine beautiful butterflies at the top of my desk holding all of my Copics, Pens, Chalk Pencils, and Prismacolor Pencils. How sweet is that!! There is TONS of room in these babies! I love it!! Plus, it totally goes with my Hello Kitty/Butterfly Theme I am slowly turning my craftroom into! So hope you enjoyed! And wish me luck!
Products Used:
Paper: Bazzill from my Stash, TAC Kraft
Ink: NONE
Stamps: NONE